Non-Productive Time Reduction during Oil Wells Drilling Operations
Keywords:
Non-productive time (NPT), well performance, NPT investigation, NPT conceptions.
Abstract
Often there is no well drilling without problems. The solution lies in managing and evaluating these problems and developing strategies to manage and scale them. Non-productive time (NPT) is one of the main causes of delayed drilling operations. Many events or possibilities can lead to a halt in drilling operations or a marginal decrease in the advancement of drilling, this is called (NPT). Reducing NPT has an important impact on the total expenditure, time and cost are considered one of the most important success factors in the oil industry. In other words, steps must be taken to investigate and eliminate loss of time, that is, unproductive time in the drilling rig in order to save time and cost and reduce wasted time. The data of six oil wells were approved for the purpose of the study, where it was noted that there are many factors affecting the NPT, which differ from one well to another. Its impact was limited to drilling rig, mud pump and equipment failure. There is also a difference between the planned program and what is actually happening on the ground, due to several reasons, including human errors during the implementation of the drilling program and others due to technical errors, Misuse of equipment, in addition to human errors related to the failure to implement the drilling program.
References
Alireza.M., Mohammad. N., Ahmad. A., "Reducing Consumed Energy while Drilling an Oil Well through a Deep Rig Time Analysis" Advances in Petroleum Exploration and Development, Vol. 1, No. 1, 2011 PP. 2231. http://www.ijettjournal.org/archive/ijett-v44p209
Cochener, J., 2010: "Quantifying drilling efficiency. Office of Integrated Analysis and Forecasting", U.S. Energy Information Administration, report, 16 pp., 2010. https://www.nrc.gov/docs/ML1111/ML111170385.pdf
Kadaster, A. G., Townsend, C.W., and Albaugh, E. K., "Drilling time analysis: a total quality management tool for drilling in the 1990's", Proceedings of the 67thAnnual Technical Conference and Exhibition of SPE, Washington, DC, 1-16, 1992.
https://orkustofnun.is/gogn/unu-gtp-report/UNU-GTP-2013-25.pdf
Kaiser, M. J., "A survey of drilling cost and complexity estimation", Internet J. Petroleum Science & Technology, 1-1, 1-22, 2007. https://www.semanticscholar.org/paper/A-Survey-of-Drilling-Cost-and-Complexity-Estimation-Kaiser/b351045f18eb3abe50fbc9557542f8cdaa311786
Samland R., "Drilling spare parts: Identifying and evaluating critical Parameters", University of Stavanger, Norway, MSc thesis, 54 pp., 2011.
https://www.researchgate.net/publication/308168348
Solberg S.M., 2012: "Improved drilling process through the determination of hardness and lithology boundaries", Norwegian University of Science and Technology, Trondheim, MSc thesis, 96 pp., 2021. http://hdl.handle.net/11250/239774
Barakat MB, "Integrating risk management concepts into the drilling non-productive time (NPT)", M.Sc. Thesis, Cairo University, Giza, Egypt, 2021.
https://link.springer.com/article/10.1007/s13202-020-01059-0
Bradley W. B., Jarmen D., Plott R. S., "A task force approach to reducing stuck pipe costs", In: Presented at the SPE/IADC drilling conference, Amsterdam, Netherlands, 11–14 March. SPE21999, 1991. https://doi.org/10.2118/21999-MS
Dew LL, Childers MA, "MODU drilling rig downtime: an objective analytical approach", In: Presented at the SPE/IADC drilling conference, New Orleans, Louisiana, USA, 28 February–3 March. SPE- 18665-MS, 1989. https://doi.org/10.2118/18665-MS
Estes JC, "Selecting the proper rotary rock bit", JPT 23(11):1359– 1367, 1971 https://doi.org/10.2118/3717-PA.
A. H. . Assi and A. A. . Haiawi, "Enhancing the Rheological Properties of Water-Based Drilling Fluid by Utilizing of Environmentally-Friendly Materials ", Journal of Petroleum Research and Studies, vol. 11, no. 3, pp. 66-81, Sep. 2021.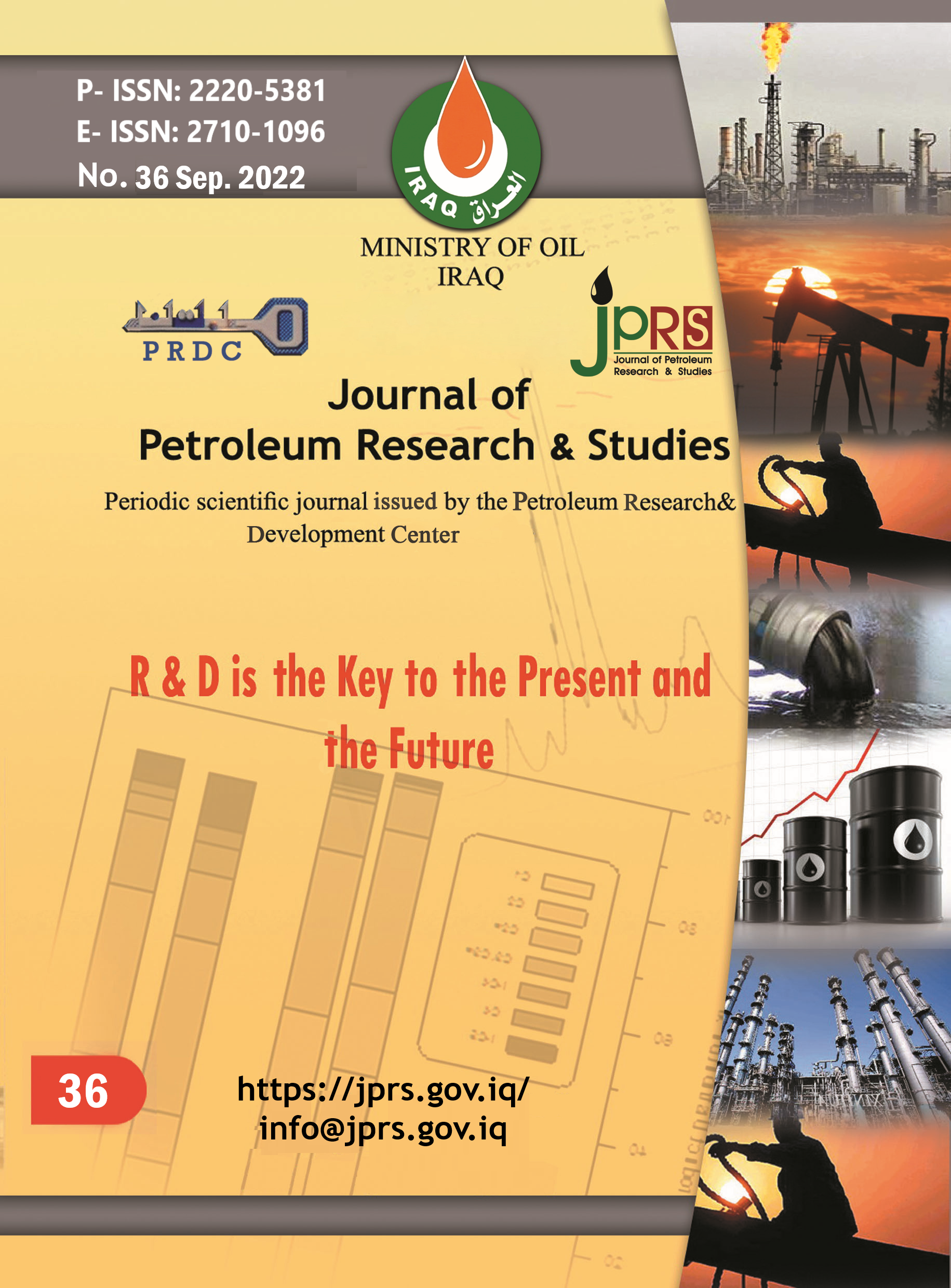 Downloads
How to Cite
(1)
Assi, A. H. Non-Productive Time Reduction During Oil Wells Drilling Operations. Journal of Petroleum Research and Studies 2022, 12, 34-50.
License
Copyright (c) 2022 Journal of Petroleum Research and Studies
This work is licensed under a Creative Commons Attribution 4.0 International License.