Using Nahr Umr Aquifer as an Additional Source of Injection Water for the X Oilfield
Keywords:
Nahr Umr aquifer, Water Injection.
Abstract
Water injection is the main strategy to increase oil production and support reservoirs pressure in the X oilfield and almost any other oilfield. The available source for the water injection in X field is the Qarmat Ali river which is located 20km to the north. However, the amount of water from that river is insufficient. Therefore, alternative water sources were investigated and among them, it was identified the Nahr Umr aquifer as the most promising. Nahr Umr is a regional giant aquifer; it is composed of high porous high permeable sandstone at an average depth of 2900m. The analysis of Nahr Umr aquifer water showed that it has a very high salinity (240000 ppm) almost composed of sodium and calcium chlorides, free of Oxygen, no solid particles were observed, no quantities of dissolved H2S, and very low occurrence of bacteria owing to the high water salinity and high temperature of the aquifer. On other hand, aquifer water contains a significant amount of dissolved CO2 (5.5%) which can cause corrosion. Therefore, there is a need to treat that water to decrease CO2 or use high corrosion-resistant materials in the pipelines and water source wells.
References
Ogbeiwi, P., Aladeitan, Y., & Udebhulu, D., "An approach to waterflood optimization: case study of the reservoir X", Journal of Petroleum Exploration and Production Technology, 8(1), 271-289, 2018.
Tang, G. Q., & Morrow, N. R., "Salinity, temperature, oil composition, and oil recovery by waterflooding", SPE Reservoir Engineering, 12(04), 269-276, 1997.
Al-Dabbas, M. A., Al-Jassim, J. A., & Qaradaghi, A. I., "Siliciclastic deposit of the Nahr Umr Formation, sedimentological and depositional environment studies, central and southern Iraq", Arabian Journal of Geosciences, 6(12), 4771-4783, 2013.
Awadeesian, A. M., Awadh, S. M., Al-Dabbas, M. A., Al-Maliki, M. M., Al-Jawad, S. N., & Hussein, A. K. S. (2019). A modified water injection technique to improve oil recovery: Mishrif carbonate reservoirs in southern Iraq oil fields, case study. The Iraqi Geological Journal, 125-146.
Al-Jafar, M. K., & Al-Jaberi, M. H., "Well logging and electrofacies of Zubair formation for upper sandstone member in Zubair oil field, southern Iraq", The Iraqi Geological Journal, pp. 101-124, 2019.
Almalikee, H. S., Sen, S., "Present-day in situ pore pressure distribution in the tertiary and cretaceous sediments of Zubair oil field, Iraq", Asian J Earth Sci, 13(1), pp. 1-11, 2020.
Almalikee, H. S., Almayyahi, H. K., & Al-Jafar, M. K., "Karst feature in Mishrif Reservoir and effect on drilling and production in Zubair oil field, Southern Iraq", Journal of Petroleum Research and Studies, 10(4), pp. 19-32, 2020.
Jassim, S. Z., & Goff, J. C. (Eds.), "Geology of Iraq", DOLIN, sro, distributed by Geological Society of London, 2006.
Van, B. R., Dunnington, H. V., Wetzel, R., & Morton, D. "Lexique Stratigraphique, Interntional", Asie, Iraq. In Intern. Geol. Congr 1959.
Owen, R. M. S., & Nasr, S. N., "Stratigraphy of the Kuwait-Basra Area: Middle East", 1958.
Ibrahim, M. W. I., "Petroleum geology of south Iraq", (Doctoral dissertation, University of London), 1978.
Wells, M., Morton, A., & Frei, D., "Provenance of Lower Cretaceous clastic reservoirs in the Middle East. Journal of the Geological Society, 174(6), pp. 1048-1061, 2017.
Fink, J., "Petroleum engineer's guide to oil field chemicals and fluids". Gulf Professional Publishing, 2021.
ZFOD, "Nahr Umr Aquifer Development" (unpublished report), 2011.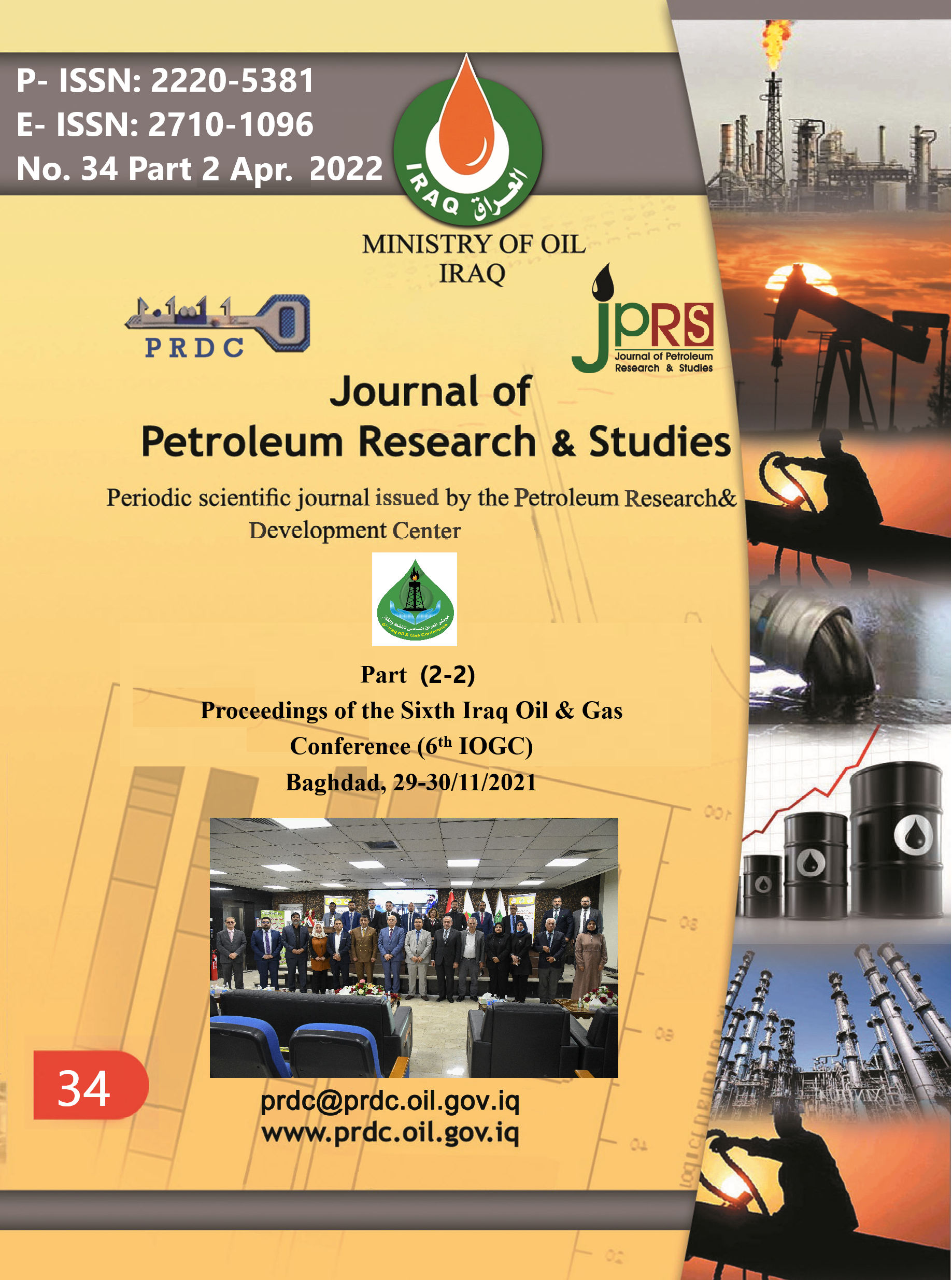 Downloads
How to Cite
(1)
Almalikee, H. S.; Almayyahi, H. K.; Al-Jafar, M. K. Using Nahr Umr Aquifer As an Additional Source of Injection Water for the X Oilfield. Journal of Petroleum Research and Studies 2022, 12, 123-137.
License
This work is licensed under a Creative Commons Attribution 4.0 International License.